Well I'm sure that most readers who are tweens or early teens (maybe even older teens *wink*) have been looking forward to Rick Riordan's latest release and the third book in the
Heroes Of Olympus
series. And for all the fans who haven't checked the back of Mark Of Athena yet here is the news the fourth book in the series, The Hounds of Hades comes out next fall Why the wait everyone moans! Yeah well, it does take time to write a book and this way we know it'll be great! And he'll have a Norse mythology series coming out sometime soon :D That should all be really exciting. I know at my library Mark Of Athena had...27 requests, I was lucky enough to have caught on and placed my hold about a month before so I was number 3 and I got 2 days after it was released. (it took me a day to go and get it) I am really looking forward to starting this book and it's nice and big too! (about 575 pages *grins*)
So be on the watch for a review coming up in the next week or so and hopefully, if you are a fan, you can get a copy in your hands pretty soon! Here is the book description: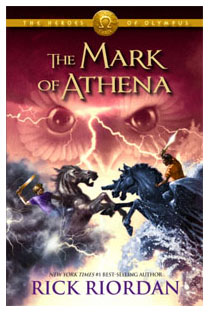 In The Son of Neptune, Percy, Hazel, and Frank met in Camp Jupiter, the Roman equivalent of
Camp Halfblood, and traveled to the land beyond the gods to complete a dangerous quest.
The third book in the Heroes of Olympus series will unite them with Jason, Piper, and Leo. But they number only six--who will complete the Prophecy of Seven? The Greek and Roman demigods will have to cooperate in order to defeat the giants released by the Earth Mother, Gaea. Then they will have to sail together to the ancient land to find the Doors of Death. What exactly are the Doors of Death? Much of the prophecy remains a mystery. . . . With old friends and new friends joining forces, a marvelous ship, fearsome foes, and an exotic setting, The Mark of Athena promises to be another unforgettable adventure by master storyteller Rick Riordan (from
Goodreads
)
Three Questions
Have you read the Percy Jackson series before? Or any other Rick Riordan book?

Did you like it?

Does this book look interesting to you?
Love, Sierra