The Mark Of Athena by Rick Riordan.
Book three in The Heroes Of Olympus series.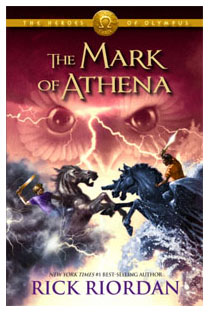 Summary:
In The Son of Neptune, Percy, Hazel, and Frank met in Camp Jupiter, the Roman equivalent of
Camp Halfblood, and traveled to the land beyond the gods to complete a dangerous quest.
The third book in the Heroes of Olympus series will unite them with Jason, Piper, and Leo. But they number only six--who will complete the Prophecy of Seven? The Greek and Roman demigods will have to cooperate in order to defeat the giants released by the Earth Mother, Gaea. Then they will have to sail together to the ancient land to find the Doors of Death. What exactly are the Doors of Death? Much of the prophecy remains a mystery. . . . With old friends and new friends joining forces, a marvelous ship, fearsome foes, and an exotic setting, The Mark of Athena promises to be another unforgettable adventure by master storyteller Rick Riordan (from
Goodreads
)
~~~~~~~~~~~~~~~~
Romance:
Kissing, liking someone, holding/hugging, thinking and talking about someone, flirting. Percy and Annabeth are talking in the stable area of the ship and fall asleep down there, they are punished slightly and lectured.
Language:
1
Violence:
Battles and fighting, yelling/arguments, injuries, threats, killing of monsters and giants, kidnapping.
Other:
Mind control from evil dead spirits, mythical animals (sea monsters, satyrs, fauns etc.), the Greek/Roman gods, lying/hiding something, trickery, mention of Bacchus/Dionysus being the wine god, manipulation, demigods and having a god for a mom or dad.
Time Period:
Modern.
~~~~~~~~~~~~~~~~
My thoughts:
This series has been really strong you know, new characters and such. The whole thing with the Roman camp. It's really cool. And it just keeps getting better! This was probably my favorite book so far from
The Heroes Of Olympus
. There was a lot of excitement, it kept me up reading late because I wanted to finish it. The plot and characters are well done and it's a really great book. I had, really, no problems at all with this book and I really enjoyed it.
Rick Riordan
is a really good author and I'm also looking forward to his new series about Norse mythology. Along with being fun his books also have a lot of mythology to be learned from them. And I would also like to say that I cannot wait to see what will happen in the fourth book, which comes out next fall. I would recommend it to girls and guys about 10-11 plus. And although this series seems to be perhaps geared toward tweens, I think that a good deal of teens will enjoy it too. Who doesn't like a good adventure?
My favorite character:
I'm afraid that it would have to be either Annabeth or Percy. It might be because I've "known" them longer or that their characters just fit me better. I don't know but they were really great, especially Annabeth as this was sorta of her quest.
My stars:
5
Love, Sierra